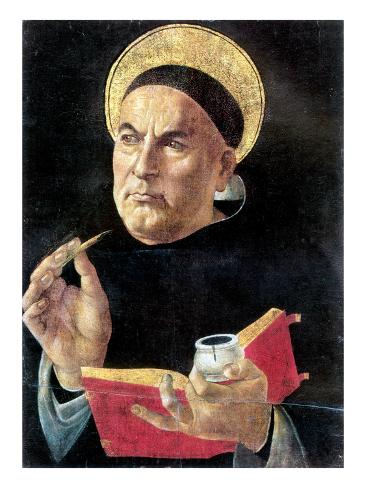 St. Thomas Aquinas
1224/25–1274
MISSION STATEMENT
The Aquinas School of Leadership, Management, and Organizational Development, LLC chiefly exists to work with affiliate organizations to use principles derived from the organizational genius of St. Thomas Aquinas to conduct seminars and design programs to train educators, educational administrators, consultants, and executive trainers to coach corporate, educational, governmental, and other, professionals to foster development of habits of prudential organizational decision-making within contemporary local, national, and global leaders and their organizations.
OUR 15 COMMONSENSE FOUNDING PRINCIPLES
(1) Things (organizational wholes) exist independently of the human mind.
(2) Organizational wholes are composed of essentially relatable organizational parts (an organizational unity within a thing that constitutes a "truth in things"). 
(3) These organizational wholes have a chief organizational, or corporate, activity (an organizational aim or end) that all the parts of the organization cooperate harmoniously to realize and, in principle, most human beings can know.
(4) Human knowing faculties of sense and intellect are generally reliable and, most of the time, can adequately apprehend, sometimes with and sometimes without, the help of technology, truth (organizational unity) in things.
(5) An analogous unity of truth exists among things (externally-existing organizational wholes) and the human knowing faculties.
(6) Truth in the human intellect chiefly consists in analogously relating in an act of judgment (mental organization) the part/whole relationships (organizational unity) that exist within organizational wholes.
(7) The way things act reflect, are signs of, a relationship of organizational wholeness (unity) existing among parts of a multitude, which possess this wholeness through unequal relation of each part to each other through unequal relation to a leading part through which a common organizational aim is chiefly communicated to all the parts.
(8)  An art or science grows out of a human habit existing within a human knowing faculty to which a subject known proportionately in power relates, that the subject known helps generate and activate within this natural human knowing faculty.
(9) Every art, science (or philosophical activity) grows out of the experiential, proportionate, relationship between the specific, facultative habit of an artist, scientist (philosopher) and a known and improvable material or subject (organizational whole) that activates the habit.
(10) Eliminate one of the essential parts of this proportionate relationship, and the artistic, or scientific (philosophical) activity can no longer exist.
(11) The proportionate relation existing between the artistic, or scientific (philosophical), habit and the artistic, scientific (philosophical) subject (organizational whole) known generates the habit and act of art and science (philosophy); the habit and externally existing organizational whole are essentially connected as extreme terms of the same real genus.
(12) Eliminate one or the other extreme of an artisitic, scientific (philosophical) relationship and the artistic, or scientific (philosophical) activity becomes destroyed.

(13) We take the nature, divisions, and methods, of all experience, art, science (philosophy), and leadership, from an essential relationship between human habits existing within human faculties and a known material, or known subject (organizational whole), that activates these human abilities.
(14) Western culture is presently experiencing a widespread leadership deficit. 
(15) Culturally to renew sound leadership within the West and the world today, Western culture would be well served to reunite the whole of human reason with the principles of knowing described above.
PLEASE CLICK ON THE LINKS UNDER OUR "ABOUT OUR AFFILIATES" TAB TO GET INFORMATION ABOUT THE PROFESSIONAL COLLEAGUES WHO WORK WITH US TO CARRY OUT OUR MISSION